I am trying to get my 1992 164 QV back on the road K334PLX, it is the 12 valve version.
The car was in mint condition when I stopped using it, the reason was one day my father tried to move the cars on the driveway and when he put the foot on my clutch pedal it never returned.
I had no idea what caused it and I had just recently had a 2nd 6 speed box fitted (the original one from when I had the 6 speed conversion died for some reason) At the time I was hard up for cash and my father paid for the replacement 6 speed box for me (best dad ever) but this new problem was a bridge too far and the bank of Dad was shut.
At the time I also had a Saab turbo so I left the car to be fixed another day and I blinked and over 10 years had passed.
So I had just had a 6 speed box fitted (a few months had passed I think) and then I was hit hit with this new problem.
I require some advice as to what has actually happened and what parts I need to fix it.
After all this time I will want to replace all fluids anyway and have also decided if I ever find a fuel pump for the car (see my other post) I will not start it until after it has had a new timing belt fitted. I included a picture from when the car was running.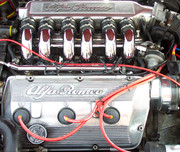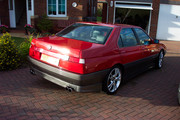 and as it looks today